Look--except for the last 10 minutes of the stage, the end of the Tour de France is always a total letdown. You've invested weeks of cheering, swearing, and armchair directeur-sportifing. And you already know what's gonna happen, right down to the jersey-donning, dignitary-handshaking, and Oleg Tinkov barging onto the podium in a yellow jumpsuit in front of Vincenzo Nibali to declare himself the winner. So what better way to cheer ourselves up after this humongous anticlimax by giving these hard-working riders credit where credit is (sometimes disgustingly) due? Yes, hold on to your handlebars everybody--it's time for the 2014 Tour de France Racejunkie Awards!
Coulda Woulda Shoulda Award: sure, discount Vincenzo Nibali all you like for beating the "weakest" final field in years by a suitably ludicrous 7 minute plus margin with the exit of Alberto Contador and Chris Froome. But part of the damn game is staying upright and out of trouble, and he ain't in the rarified company of both Alberto and Eddy Merckx as one of the 6 winners of all 3 Grand Tours because everyone good around him--including some damn fine riders who made it all the way to Paris this year--sucked all the time. So lay off il campione already--like it or not, respect, he really earned it!
Cognitive Dissonance Prize of the Tour: okay, like the last 30 Tours. *Two* French guys on the podium? What's next, an actual win in Paris? Ha, ha, just ki--no, I mean it, what's next, an actual win in Paris?
Punk-!@# Move of the Tour: sure, faking exhaustion, like writhing in agony on the ground over a hangnail in soccer, is part of the game, but Alejandro Valverde ignoring young Pinot's desperate gestures for help sucking on his wheel and *then* attacking him was a major wanker move. And who's on the final podium in Paris now? Yeah, that's right!
PR Screwup of 2014: the podium-babe kiss-diss of maillot jaune Vincenzo Nibali that far overwhelmed the achievement of the precious jersey itself. It's back to draping yourself over the merch in a tacky bikini at international car shows for you, young lady!
Crushing Disappointment of the Tour: yep--fan fave Peter Sagan takes the green jersey but fails to win, as was deemed almost inevitable beforehand, a single stage. Dang, that kid is a Ferrari motor with a Yugo head--someone grab him a tutor on race tactics, but quick!
Pretty Fly for a Backup Guy Prize: Rafal Majka wasn't even supposed to be there. But when Contador crashed out, this bottom-o'-the-barrel selection from Tinkov-Saxo not only bagged two mountain stages, but the overall polka-dot jersey as well (shut up! Purito's just resting up for the Vuelta! bite me!)--and Oleg apparently owes him an Aston Martin for his efforts. To the completely outclassed Team Sky--watch and *learn*!
Agonizing Moment of the Race Award: yes, this Tour was replete with jump-outta-yer-chair-screaming awful moments. But for me, most heartrending was Jack Bauer getting swept up after an exhausting all-day breakaway within mere meters on the line on stage 15. Aw, I *really*, *really* hope he gets one next year!
No No No No No No Imminently Memorial Statute: no matter how often he says it, it still can't really be true. The great Jens Voigt's last Tour de France. Still, of course he took a final flyer to grab an intermediate sprint on the final stage. Jeeeeeeeeeeeeennnnnnnnnnssssssssss!
Gorilla in the Mist (of Rage) Award: yes, the hilarious scene where Andre Greipel, having dragged his ginormous thundering carcass over the Stage 11 mountains to a surprise possible sprint win, goes down in a tangle with we love Sylvain Chavanel, the camera cuts back shortly thereafter to catch Sylvain and Andre having a commiserating "well, that's cycling!" sort of chat, and instead nabs an angry giant gesturing violently at Chava and screaming "you touched my handlebars! your fault!" Good thing the camera was there or there mighta been a lot more than just gesturing--and Sylvain, next time, don't piss off the Gorilla!
Completely Missing the Point Award: the cycling world goes nuts--after *years* of begging for, and clearly deserving, their own three week Tour de France, the women get what? *One* day on the Champs-Elysees with some of the greatest riders in the peloton, with--gasp!--equal prize money on the day to boot. Except it wasn't freakin' BROADCAST, except for highlights, at least in my country. Well, Marianne Vos won it. Do you clods even *see* the problem here?
Annoying Trend of 2014: great, you got a selfie. Unfortunately, you also just derailed the stage and possibly career of one of the top competitive athletes on the planet. Tool!
Phil & Paulism of the Tour: sure, there were the frequent misidentifications of the riders, the lyrical "dancing on the pedals", the frenzied commentating of the GC contenders' every wobble, and a lengthy history lesson on each passing ruin, but this year, the winner: Paul (or Phil) referring--without hesitation or equivocating--to Marcel Kittel as the "preeminent sprinter in the world." Okay, so Cav wasn't physically there any more for Paul to remark on--but the hell with his shoulder injury, that *had* to have hurt!
The Man in Iron Mask Prize: this one's an Astana two-fer: not only did the exceedingly quiet Vincenzo Nibali finally show some emotion on the podium in Paris by, well, noticeably exhaling, but the man actually made Alexandre Vinokourov *repeatedly* smile. Someone got this all on film?--we may never, ever see this again!
Crash o' the Tour (Race-Altering Stupidity Edition): all it takes, even for the best in the business, is a moment's distraction. A smashingly on-form Alberto Contador, snapping his leg in a mere glance's time. Yes, I wonder what would've happened if, too!
Crash o' the Tour (Jaysus, Not Again Edition): it took approximately 50 separate crashes and two miles of sterile gauze bandages, but finally, after busting his wrist and hitting the deck repeatedly even before he got to the feared Stage 5 cobbles, the mummy-wrapped kit-shredded remnants of what was left of poor Chris Froome finally crawled into the team car in defeat. What a lousy way to leave!
Crash o' the Race (Aw, Suck! Edition): Mark Cavendish, taking himself (and damn near Gerro) out with a careless move near the finish line and an excruciating shoulder injury. As with Nibs and his main competition, nope, we'll never truly know what'd've happened. Get well so you can show us all next year, Cav!
Best Roadside Decoration: forget the overhead shots of spray-painted hay-bales arranged into to giant bicycles, the guy dressed like a banana, or even the dude wearing the "I'm riding a pony" outfit--this year's win goes to the wholly original and incongruous bear lugged by some fan to the sidelines. There Phil and Paul are, discussing some 13th-century chateau, and all of a sudden, Phil bursts out "Oh my goodness, Alejandro Valverde's just been eaten by a bear within one kilometer of the finish line! I can't believe what I'm seeing!" C'mon, like half of you haters weren't wishing it!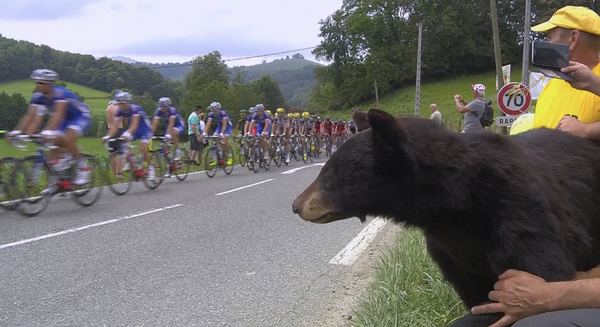 Best Rider Smackdown: between Thomas "The Tongue" Voeckler road-raging some hecklers, Luke Durbridge going all Incredible Hulk on a hapless soigneur, and an unprecedented bevy of close-cutting fans swat-offs, I'm giving this for the absolutely imperturbable Vincenzo Nibali, woken from his perpetual placidity by an exuberantly celebratory bikini-clad spectator taking a selfie who was promptly whacked outta the way not only by the race leader but also the close-following race moto immediately thereafter. I get it, it *is* the coolest thing on earth--just stay the hell outta a guy's line, willya ditzbag?
You Can't Cheat Mother Nature Prize: it's one thing when the camera happens to be passing by or curiously stops to see why a teammate is holding up his GC leader and inadvertently catches a mass (or individual) nature break. But the surprise, slow realization, and endless dissection of poor gut-flattened Arnaud Demare stepping into an accommodating if unfortunate fan's roadside trailer was just a little too intimate. Okay, there's a very gnarly bug going around the peloton, we get it--can you give the poor sod a little privacy?
Cosmic Justice Award: with all the stupid fans leaning into the riders year, often with disastrous results, I gotta admit, there was something almost satisfying every time a rider overcooked a slippery corner and plowed off the road into the spectators, since nobody that I could see got at all hurt for it. Order has been restored to the universe!
Incredible News of the Tour Award: the rumor that the luckless (and resultsless) Andy Schleck's outta Team Trek next year--and that Frank, who's long hand-held his heralded prodigy baby bro and rode pretty decently this year--still in. Worst part: nobody even noticed. Ouch!
Incredible News o' the Outside Cycling World Award: former Tour de France champ Brad Wiggins--now so discounted he couldn't even get a gig as Chris Froome's domestique--announces he's done with racing on the road entirely and will go back to the obscure and humble track instead. Worst part: nobody even noticed. Ouch!
Roses are Red, Violets Are--Who Cares? Award: finally, it seems fitting to hail the very last-placed rider in the Tour de France, the lanterne rouge: Team Giant-Shimano's Cheng Li. Sincere congratulations on a job incredibly well done--you are officially the 164th bad-!@#est athlete on Earth!
Well, congratulations to all of this year's noble, and especially ignoble, awardees. Complimenti Vincenzo Nibali, and now let's all get on to the bangin' Vuelta!