Sure, today was a twinky little "transitional" stage, but before we hit the high Alps tomorrow, there's a few important lessons so far we ought to take away from Le Tour and around the sport in general, so kids, for the betterment and just plain saving of us all, let's review:
Crouching Cyclist, Hidden Chavanel: so let's say you inadvertently piss off, and take down, Andre "the Gorilla" Greipel within lougie-ing distance of a sprint he didn't even expect to be there for, much less actively contest, since he had to spend 5 miserable hours hauling his monstrous carcass over about 600 Cat 3 and Cat 4 climbs first to get within 3k of the line before you personally destroyed his sudden stage-win dreams. Well, normally, according to the experts,
gorillas
are quite reserved and shy--until they're provoked by unexpected movements, when they will charge you and let out "horrific" roars. And if that don't work, it attacks. So what do you when he does it? Well, according to experts, it ain't "flee"--he'll take you for a wuss, charge after you, and bite into whatever body part he gloms on first. Instead, you are to crouch "submissively" and keep your eyes on the ground. Words to live by--literally! Here, Sylvain Chavanel instinctively does the right thing after a wee imbroglio with Andre today: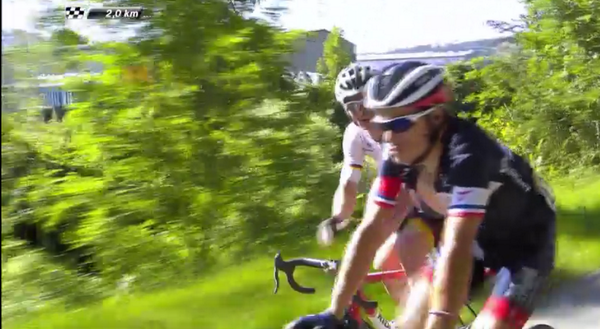 How to Look All Cleanster, But Still Be Loyal to Your Cyclist: string him along! Yes, that's what the fine folks at Team "Incredibly Anti-Doping, Unless We Want You As a Staff Member and You're Not American" Sky did after backing Brit bio-passport miscreant Jonathan Tiernan-Locke, popped ages ago but only now whacked with a two-year ban for not quite provably doing anything wrong, subject of course to appeals--they had his back until UCI handed down the news, at which point, not subject to appeals, they ripped him as a freak-o'-the-peloton "cheat" and terminated his contract. Classy! Aw, and I was *so* hoping we'd get to see the alternate "As we expected the allegations were proven to be baseless and we are delighted to announce his formal return to training with the squad" press release...
How to Piss Off Mark Cavendish: well, if you're we love Phil Liggett and Paul Sherwen, announce without any hesitation whatsoever right on the air that Marcel Kittel is the best sprinter in the world today. Oh, really? I can guess someone who might have an issue with *that*! Don't worry, boys--I'm sure the two of you can take that baby Mark Cavendish, at least if Bobke goes all Hinault and lands on 'em like a pro wrestler--and I doubt he was watching some boring bike race from home today anyway!
How to Fake Like Your Head Isn't About to Explode: oh, come on, Oleg. We *know* you ain't happy, and even if poor wee Contador makes it back to form in time for the Vuelta, you ain't gonna be satisfied without him winning the showiest Big Show of them all. Alternate tactic: deflection, by attacking another team for its lame anti-doping response on Twitter this very afternoon. But you sure did psych us out there with that big smile and thumbs-up from the team car this morning, Mr. Tinkov--*how* many stage wins does it take to make up for not getting the maillot jaune in Paris again?
And, How to Win a PR War: oh, Lampre left charming selfie king Pippo Pozzato off its Tour de France squad--but it certainly lost the battle for the hearts and minds of the adoring fan populace, as a suavely offended Pippo responds by not only posting a thousand photos of himself diligently pursuing high-altitude training the last two weeks just to shove it in your face that he's *not* a slacker, but also manages to put up a photo of himself tranquilly contemplating the true meaning of life against a stunning mountain panorama totally coincidentally with his shirt off. Grimy exhausted blue-and-fuchsia guys picking apart the stage results with obscure announcers in immediate post-race interviews--0. Pozzato--1000!