Yes, the champagne's been popped, the statue's been kissed, and Oleg Tinkov's already flown in a crack team of Russian hairstylists to consult on dyeing his 'do the exact shade of Tour de France maillot jaune in July, but in the meantime, as we all sleep off our post-Giro hangovers and general mourning lethargy, it's time for the incredibly prestigious and like-2-dear-readers'-renowned 2015 Giro d'Italia Racejunkie Awards! Prizes: eternal glory, a lifetime of notoriety and/or humiliation on the Internets, and hell, I'll throw in a spiffy free embroidered racejunkie cap to the first fool who claims his prize! Ergo, without further ado:
Marginal Gains Award: So Team Sky, in an orgy of anal-retentive overanalysis, sticks its pressure-cookered GC contender Richie Porte into a slick new one-man team bus, replete with the latest appliances, heated massage table, custom mattress, and a veritable fleet of minions inquiring anxiously after his every petty need. Given how well *that* worked out, Sky is now reportedly going to give this rolling Ritz-Carlton to their slowest, crappiest rider, who will, if logic follows, win the upcoming Tour de France. Don't worry Richie--I'm sure they'll let you snarf down whatever dregs are left in the coffee maker for one last breakfast!
Punk-!@# Move of the Race (Riders): Astana's stage 16 attack on Contador after his flat tire on Aprica. Response: all in the legs, as a distinctly-ticked Alberto ran down every last one of those bastards except stage winner Landa like a twee scrawny tank. You've been *schooled*, beeyotches!
Punk-@!# Move of the Race (Race Organizers): penalizing Richie Porte 2 freakin' minutes for unthinkingly accepting a friendly wheel exchange from fellow Aussie good-guy/Orica-Greenedge rival squad rider Simon Clarke. Sure, the way he imploded, it was the least of the poor guy's problems anyway, but still--psych Porte out *completely* whydontcha?
Don't Mess With the Contador Award: right right, all that attacky crap on the Aprica and Mortirolo. No, this is to the eejit who, stages after some numbnut with a camera crashed an innocent rider outta the race and crushed his entire season's work with it, thought it was a great !@#$in' idea to shove a selfie stick right into Contador's line on a climb. His cool response? WHAMMO--problem solved!
Poltergeist Prize: holy !@#$, what *was* that thing? No no, it was only in my visual range for a split second, must've been an illusion. Team Tinkoff-Saxo. Yeah, yeah, tactics. Where the hell *were* those guys when Contador was isolated in a sea of turquoise blue from 3 meters into every climb?
Crash o' the Race (Numbnut Spectator Edition): I get it. You want the shot. But the !@#$in' riders want to stay in one piece, dumb!@#, and sticking a really long camera lens out into the peloton on Stage 6 in the mad rush to the finish line isn't going to help them do that. Worse, it jacked the entirely innocent Daniele Colli with an excruciating injury and nearly took Alberto Contador outta the race. Go to hell, idiot, and next year, back the !@#$ off!
Crash o' the Race (!@#$wad Spectator Edition): ever wanted to experience the adrenaline, the pain, the sheer exhilaration of driving along with the speeding peloton, fulfilling a lifelong dream of ineffable joy? Well *don't*, assclown, because you're completely unqualified to do it! Yep, the astonishingly selfish and stupid fixie-riding poser who actually leapt into the race--and promptly brought half of it down, including unfortunate abandon Pieter Serry. And you *wonder* why everyone hates these guys?
Crash o' the Race (GC Disaster Edition): y'know, for a normal rider--even assuming the freakish masochism level perversely enjoyed by yer average pro--snapping yer shoulder out of its socket twice would tend to have somewhat negative consequences on one's ability to continue to ride, much less win, the race. For Alberto Contador, it means a piece o' tape and certain victory. Damn, can you imagine the gap to 2nd place if this little robot had been *healthy*?
Crash o' the Race (Pass-Out Gnarliness Edition): yes, it's a grim two-fer: I am no student of anatomy, but I am pretty sure that no human arm is supposed to turn like this. JAYSUS, Daniele Colli--please, please get well soon!
Garish Publicity Slut Statuette: is this even a contest? Prosecco-swilling podium-hogging maglia-rosa-upstaging Oleg Tinkoff, this embarassing win's for you!
Froome-Wiggins Memorial Bushwhacking Award: oh, dear little ex-Carrot Mikel Landa. Without you, Fabio Aru would've been toast--but with you, even Italy's new Grand Tour darling was in serious danger of being outshone. You better *hope* whatever team you're looking for that giant contract next year doesn't already have a GC contender who's gonna preemptively slash your tires every morning at the start line!
Total Outrage of the Giro: look, Alberto Contador's interesting and all, but let's face it--a Giro without Pippo Pozzato is like a prosciutto without di Parma. So *what* if he wouldn't've won a stage, or hell, be all that useful to Lampre? He'd definitely make it both way prettier and suave-ier--Free Pippo 2016!
Imminent Midnight Drug-Bust Swat Team Prize: You know I love you, Vino. But *5* stage wins? *2* podium places? A leg-locked pack of futuristic sci-fi skinsuited androids pulling a USPostal slaughterfest at the front for 6 hours a day, while you just clutched onto your license to ride by the skin of your teeth? I don't care if you're feeding these nice honest boys Pixy Stix for energy, you are *asking* for 24/7 surveillance and constant medically-intrusive doping controls! Oh, just let *one* of your guys get spit out the back *one* day each Grand Tour, at least the UCI'll be able to save some face...
Unsung Victory o' the Race: Remember brilliant Colombian climber/Tour de France King of the Mountains Mauricio Soler, who suffered a horrific crash and career-ending traumatic brain injury in a crash at the 2011 Tour de Suisse? Well here he is with maglia rosa Contador. Forza campione, sei un grande!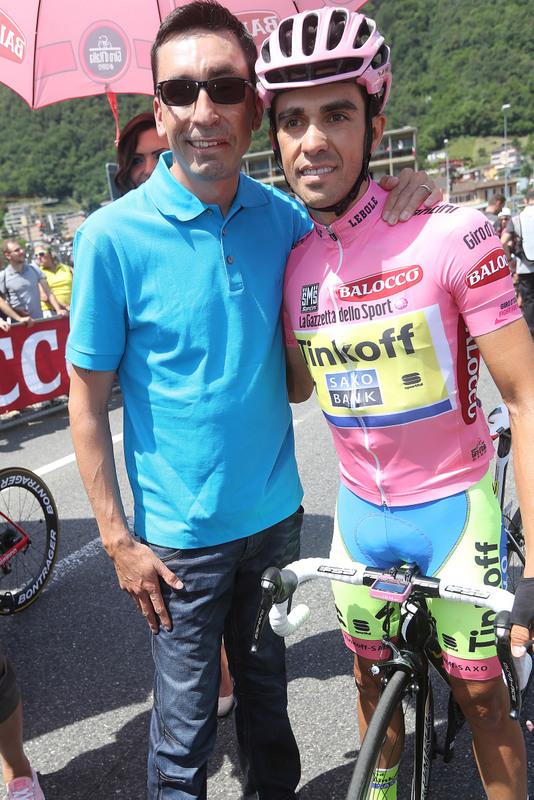 Sissy-Team-Boss Slap-Fight Award: so whose fault *are* all those crashes in the peloton? Well, if you're blowhard BMC king Jim Ochowicz, it's the uncoordinated nimrod second-rate crap-squad Pro Continental riders, the whole lot of whom should be kept out of the races with the *real* riders. If you're Pro Conti Androni-Sidermec team leader Gianni Savio, it's a moot point, because you're an !@#hole. Now apologize to your little friend, Ochowicz, and go play nice together from now on!
Now *That's* A Fine Worth Getting Award: you think the *winner* of the Giro d'Italia is a good rider? Well, the *last* rider on GC in the Giro d'Italia--who finished an impressive 6 hours 40 minutes and 13 seconds down on Contador--can *still* kick yer mere-mortal club-rider gel-suckin' wannabe !@#. TrekFactory Racing's Marco Coledan, chillin' on the roadside on the peak of the Sestriere the penultimate day 'til his maglia nera is assured and proudly eating the 500 euro fine. No smug little jerk's gonna not beat *me* this Giro!
Well, them's my ratings-busting award show--congratulations--or shame on you!--to the honorees, and don't try these disgusting shenanigans again next year!