Smooth Operator: so everyone basically accuses Astana of being an obviously-doping pack o' Postal-Discovery autobot freaks at the Giro d'Italia, when they won like 4 back-to-back mountain stages with nary a breath inhaled, and what does Astana do at the Dauphine? Yep, defending Tour champ Vincenzo Nibali goes on an insane (and insanely-allowed) hammerfest breakaway--and wisely bonks the next day and blows the entire race. Well played, Alexander Vinokourov, well-played!
The Wind Beneath My Wings: y'know, I'm no aero expert, and I know the guy actually *won* the whole show, but couldn't Froomey grab even *more* seconds--hell, minutes! hours!--if he could find a way to halfway contain those gangly flapping pterodactyl wings of his? Still and all, he did manage to overtake incredible class-act Tejay Van Garderen--but in addition to general tenacity, and a beautifully-earned if rather regretted second place, the prize for Iconic Photograph for the Ages goes to Tejay--complimenti to a true campione!
Peto, Sit!: and, just as Tinkoff-Saxo was reduced to tweeting poor Peter Sagan congratulations today for his phenomenal performance of, um, posing for a freakin' fan selfie, the boy comes roaring back from his Classics funk and nails a hotly-contested uphill sprint at the Tour de Suisse with the expert help of Rafal Majka. In return, mercurial team boss Oleg Tinkov lavishly complimented the Saganator as a "good boy." Uh-oh, 'Berto--with the Route du Sud just ahead, not only has Oleg screwed you against the likes of Froome and Nairo with the Giro-Tour double, but now he might decide to actually squander some domestique resources you can't afford on Peter at the Tour de France--for god's sake, get this impending disaster under *control*!
We Interrupt This Broadcast For This Swooning Fan-Geek Moment: so what happens when you respond to a general twitter-shoutout to ask total Amazons Giorgia Bronzini and Elisa Longo Borghini at Wiggle a question? They answer--their happiest day on the bike ever was the first training day coming back from her 2013 crash (Borghini) and "the rest day!" (Bronzini) Oh, I'm just basking in their reflected smashingness even now...
It Was An Itsy-Bitsy, Teeny-Weeny...Aw, You Know the Rest: finally, as the women's peloton struggles for even half-assed respect, middling pay, and frankly hardly any TV coverage at all, let's take a minute to give massive props to the tone-deaf geniuses at the Flanders Diamond Tour, who utterly overshadowed Jolien Dhoore's smashing win by, as a disgusted Marijn de Vries promptly posted on social media, arranging a four-pack of heels-and-bikini-clad model-babes below the podium. Fortunately, as venerable UK rag the Guardian has reported, the Diamond Tour has since profusely apologized, promising that for next year's race, they'll be exploiting the women in skimpy Sports-Illustrated-worthy one-pieces instead. Yay, progress!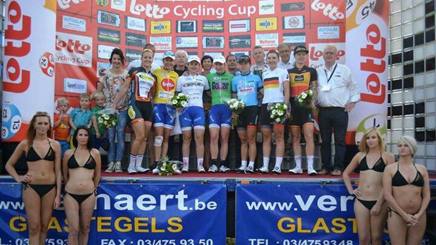 PS Didja see Tommeke win today at the Rund um Koln? Didja? Me neither, so here's some video!