You *Suck*, Fate!: okay, I don't know who's in charge of this entire earthly show, or what the fabulous Euskaltel-Euskadi--and Igor Anton in particular--could possibly've done to offend the powers-that-be in the universe, but WHY must Vuelta race leader and eventual-winner-dammit Anton have hit the deck ripped off 3/4 of his skin til he looked like some gross science experiment busted his elbow and crashed out of the freakin' race on the very cusp of winning the whole show--what'd *he* ever do to anybody? Or, rather than being a giant cosmic catastrophe along the lines of the one-shot die-off of the dinosaurs, and the eternal forces of our world specifically having it in for one harmless bike racer in one harmless bike race over all the other things on the planet that might merit attention, I suppose it could've just been, y'know,
a pothole.
In which case, I don't know what the deal is with road-maintenance liability in Spain, but *some* jackass in charge of those whatever-the-hell-those-giant-roll-y-things-like-Zambonis-that-you-use-on-the-roads-are-called oughta go down in flames for it.
Igor, of course, showed total class, issuing a statement on how wonderful his Vuelta was up to the very last moment and how he "lived a dream" and what a colossal joy and satisfaction it was to perform so well throughout
, and, in a similar vein, both Joaquin Rodriguez and Nibali tempered the excitement of their respective victories with highly sporting wishes that it hadn't come about for them that way. Heck,
even Rodriguez got stung smack in the eye by a wasp
during the stage. No matter who or what is responsible for this craptastic crush-o'-my-soul--aaaaiiiiggghhhhhhhhh! Anyway, here's the miserable footage:Aw, *rats*!
The Next Step: first, if *I* were Ivan Basso, I'd be lookin' over my shoulder just about now and wondering if Nibali's planning a colossal Lance-on-Contadorian bushwhack a year or two down the line for total Liquigas leadership, but then, I'm just paranoid. Which Contador should've been, and look what happened to *that* poor bastid when he was all trusting! Second, though, even though it's likely between Rodriguez and Nibali at this point, in keeping with my grand tradition of losing underdog picks, I'm gonna have to root for Xacobeo's Ezequiel Mosquera or at least Cervelo's Xavier Tondo (in honor of dear little Sastre of course) from now on. How do you yell "allez allez" in Spanish again?
Another Plea to Universal Sports: hey--again--would you shmoes *please* stop posting the massive race news/stage result in ginormous type *right* on the login page for the on-demand video replay? Now instead of enjoying the stage with a wholly tranquillo sense of pleasant anticipation waiting for the favorites to battle it out on the final climb, I had to watch the freakin' thing with a gut-wrenching sense of imminent hurling waiting for Igor Anton to pulverize his body and his GC hopes on the tarmac. CUT IT OUT!
We've got Another Insult Moratorium Winner, and
Enter Here to Win Free Stuff!
: finally, our latest Insult Moratorium beneficiary is in, and Tusher, even though J. actually won and picked it, this one's for you: it's Mark Cavendish, baby! Who has, y'know, well, very handsome teeth.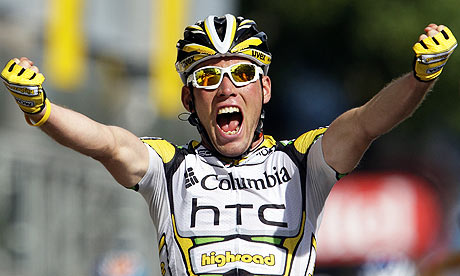 Jeez, c'mon already, first Menchov, now Cav--you guys are *killin'* me!