Yes, it's time for the most glorious Monument of all, the riveting Hell o' the North! Why "the Hell of the North?" Well, it's north. The hell: bone-jarring dream-destroying cobblestones, the ever-chance of freak wet weather to make the pave' that much more slippery, and pain, pain, pain, PAIN, baby! And that's on a *good* race day. This year's deal:
Out: Suck! We love Sylvain Chavanel with asthmatic bronchitis. Also missing: Flanders-crunched trusty Cancellara lieutenant Stijn Devolder, replaced by the very-fine-but-not-so-tested Boy Van Poppel. You *doubly* can't afford to screw this up tactically now, Trekies! To see how Quick Step is feeling about it, let's check out their course recon: And yes, the ones who make it like three feet past the start line before bagging out in wailing agony tomorrow are *still* the bad-!@#$edest road-beasties on the planet. Bow, bow before the riders of Roubaix, o spindly unworthy wimpmeister peons!
In: Yep, it's Cancellara, Sagan, Vanmarcke again, and yep, we all know who'll probably get it, tho' if an overconfident Sagan tries to pop a wheelie on the pave for the Beliebers--I mean, Sagan fans--I bet *that'll* cause some fun for the gruppo. On their heels, if they don't end up on the ground: Boassen-Hagen-Dazs, coif-master Taylor Phinney, Degenkolb, Stybar, Terpstra, and Pippo. But dammit, I *so* want Tom Boonen to win it. And what the !@#$ is all this hype about Brad Wiggins for !@#$'s sake--is *everyone* so high on tramadol these days they're seeing this?
The Forecast: the good news: no rain! The bad news: it's a blinding retina-scratchin' dust-bowl! Wait--*who* just attacked me?
The Course: oh, sweetie, I know you know it. And if you're new now, you'll be in love with it by tomorrow. 28 cobbled sections, with the dangerous Arenberg a mere 18 sectors in and the potentially race-deciding Carrefour near the end. How you're gonna feel afterwards: yeah, well this is how Tony Martin looked after the Tour of the Basque country today, and there ain't even no rock-ridin' *there*: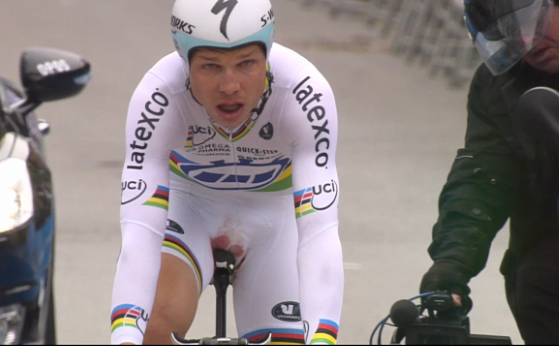 And if you think you're getting off easy cruising the roadside, they're plowing it up with farm machinery. In sum: allez allez, suckers--see you at the post-race podium 'n' kiss-n-cry!