To the Extreme: alright, screw that masochistic cyclist hard-man crap--not only are notorious softies like
Pippo Pozzato
tweeting their outrage, even tough-guy Fabian Cancellara's finally had enough, and is calling bull!@#$ on extreme-weather stages like Tirreno-Adriatico's frozen Stage 5 to Terminillo because of some ridiculous wussmeister concern like the riders' "health and safety." What a pack a' whinin' weenies! "My !@# is frozen to the saddle" this, "I'm too numb to grip the handlebars on this icy deadly descent" that! Do you know how much you're getting *paid* to catch a slobbering cold virus for a month for our selfish pervert entertainment while we cheer you on from the comfort of our heated road-side campers, or splosh our hot cocoa right on the tray-table by the TV in gutted sympathy when you're passed within a few meters of the line? We're in *agony* here you crybabies! Oh, the soul's just gone out of the sport if it's gonna be about who's the best at basic ol' "bike riding" from now on....c'mon Pippo, you're just pissed you had to cover up your tats!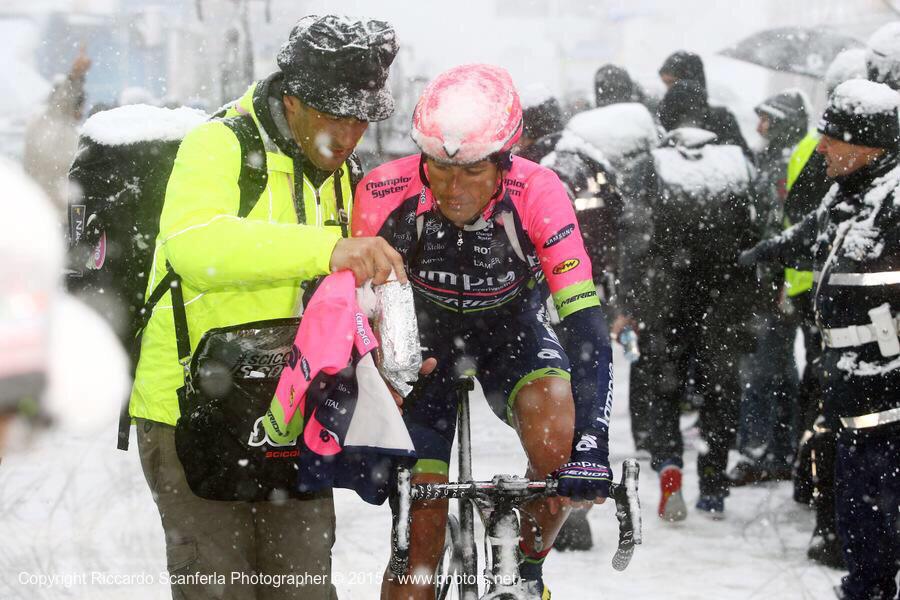 Well, I See That Little Pep Talk With the Hired Goons and the Cattle Prod Worked: and, welcome back to the Saganator, outlasting the rest of sprinters on yet another miserably crappy day at Tirreno and taking his first win of the year at last, with the generously-credited help of teammate Alberto Contador. Well well, maybe he *is* gonna pull it together for an all-out slaughterfest at the Classics this year. Amazing what a little "chat" with an unhappy fat-walleted Oleg Tinkov can do--now Contador, don't *make* him have to talk to you about handling the cold weather properly at the Giro!
What? She's Not Bionic?: Finally, best wishes for a speedy recovery to--no, it can't be possible--the indestructible Marianne Vos, who apparently has pulled a mortal human "hamstring", further dashing the last hope of the entire peloton that the whole reason she's able to kick everyone's !@# with such relentless perfection is that she's actually mechanically a military-grade clandestine-project android. Yeah, she can still probably wipe the floor with everybody--just count yerselves lucky someone else besides her gets to win a race or two this year!