None More Black: look, there are certain eternal truths in this world: that Jens is a god, that Vino is a darling dangerous nutjob, and that AG2R's outfits're gonna always, always--despite the fact that brown is a lovely color--be butt-ugly. But sponsors 'n' team kits do change, and with black apparently being the new black this year, how the hell can you tell 'em apart so you know you're rooting for Cav not Kittel? Here!
Quick Step: Black, but with some lovely trademark blue to stand out. Lookin' sharp there, Manx Missile!
Giant-Alpecin: now I'm pretty sure "Alpecin" is some kinda gnarly dandruff shampoo, but surprisingly, they don't have snowflakes on their jerseys. What they do have: yep, black. The allegedly distinguishing feature: a coupla white stripes with a little red. Mark Cavendish, you better hope you don't see these guys in front of you!
Trek: uh-huh, black black black black black. All-business pinstripes on the bottom, and a let's-party white'n'red on the top. They may be down a Schleck, but they're back to business, and ready to get wild on the podium!
Lotto: if ya can't see Greipel because he's the size of Mount Everest, you still oughta be able to pick 'im out in the thundering herd stomp at line: the guy's gonna be a six-foot bumblebee. Black, yet so much more glaring!
Cannondale-Garmin: jaysus, still more black! Still, Vaughters being a rakish, argyle kinda guy, and Cannondale still harkening to the Liquigas of its past, they've still snuck that in with subtle lines of neon green. Tres chic!
Astana: god love Vinokourov, he's got 20 guys testing poz for dope a day and he *still* can't resist the urge to have his boys blindingly obvious targets for the narcs. Blue as Vino's eyes, with a little gold for his hair to boot. Good luck out there guys--just hope no-one's lookin' too closely!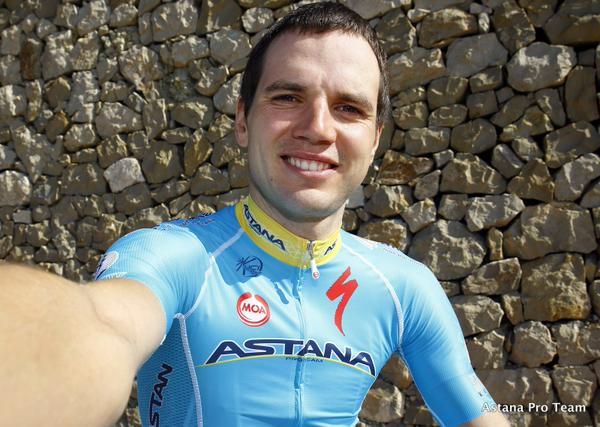 Tinkoff-Saxo: sure, they went all camo stealth-mode for their training camps, but now Oleg wants the rest of the GC contenders to see the pain a-comin'. And Sagan, how dreamy!
Katusha: Purito IS SO A PODIUM CONTENDER! And you are SO GONNA NOTICE HIM PASSING YOU VALVERDE YOU S.O.B.! Red as the Vuelta jersey Rodriguez'll be taking on the final day. Go Puritooooooooooooooooo!
Movistar: alone among the garish braggadocio of the Grand Tour tough guys, wee Nairo Quintana and his demonic frenemy Alejandro Valverde are tick-tick-ticking up on you in subtle navy with a hint of green. See who snagged the center "power" spot in the photo?
BMC: screw you, you still haven't given we love Samuel Sanchez a contract--wallow in anonymity, or change your nasty ways!
Well, them's the biggies. Alberto, you know we'll be seeing you on top in Paris!