Yep, Still Rocks: sure, part of the reason we love legendary sprint god Robbie "the Pocket Rocket" McEwen is his pronounced tendency to actually physically rip the face of any unfortunate s.o.b. who !@#$ed with him, but we will take him being back as a commentator instead since we have to, and to all you Phil Liggett and Paul Sherwen haters ticked over some minor detail like being a complete perpetual Lance Armstrong apologist and occasionally lately misnaming a rider who surely wasn't really so important anyway, stuff it, 'cause with the dulcet tones of Phil and Paul and Robbie to shout out the Aussies for the Tour Down Under's preview race, the 2015 road season is officially underway! First blood: Marcel Kittel, over Juan Jose "Can You Believe a Sprinter Who Can Come In Second to Kittel Got His Start at Freakin' Euskaltel?!" Lobato, though I note that chief smackdown rival Cav is *not* on hand, so Cavendish loyalists, not to worry just yet! On the women's side: Melissa Hoskins takes the day while Italian teammate Scandolara holds the GC. Forza ragazza--but watch out, Bronzini was already fifth in the sprint!
Boonen's Year Starts Off Right: and, congratulations to
casa Boonen
, as he and his companion Lore are now proud parents of wee twins Jacqueline and Valentine. Aside from, y'know, the life-changing experience of being a parent and all, what a great psychological boost to the start of the year for Tommeke--if his body doesn't now collapse from the impending total lack of sleep!
Gratuitous Fabian Cancellara FanBoy (and Girl) Swoonfest: meantime, as the heat-loving hardmen get ready for action in Australia, Trek stud-pup Fabian Cancellara, fresh off deciding to bail on his hour record attempt, is training in balmy Mallorca with Frank Schleck and co. Look--sheep--yeah, I figure none of you'd've noticed the background!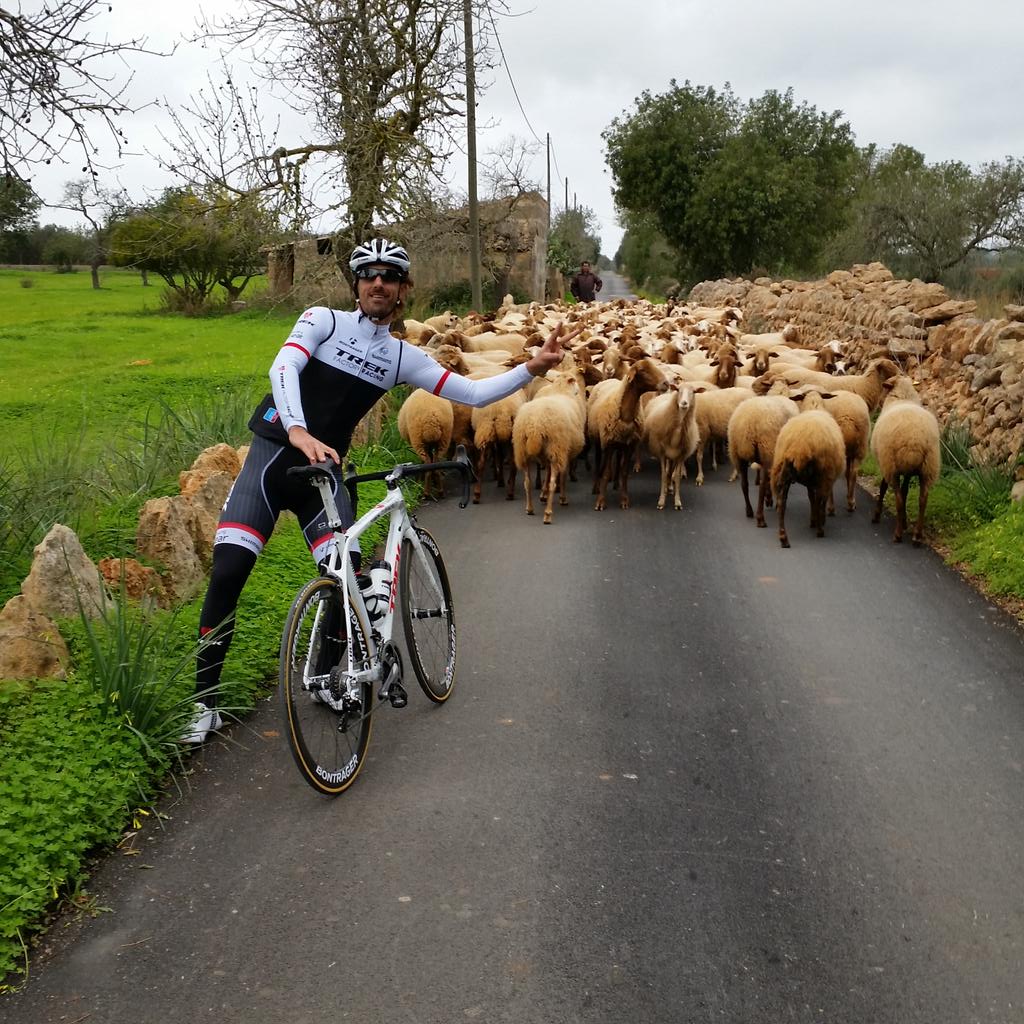 All right, on to the Tour Down Under--yeah, yeah, I get that Richie Porte's supposed to win the thing, but here's rooting one last time for retiring former Tour de France champ/ex World Road Champ/general gritty bad-!@# Cadel!
The Diss of Being Nibali: finally, yet another Tour de France GC contender, Nairo Quintana, has weighed in who he expects to be his biggest rival in July--yep, last year's crash-out Alberto Contador. Y'know, it's about the umpteenth interview with these guys, and not *one* of 'em's picked Nibali as the number-one dude to fear. If you were Nibali, wouldn't *you* be getting awfully pissed off by now?