Watch Out, Mark Cavendish!: Oh, so you go in for a little argy-bargy at the line, maybe a shove like Cav or a head-butt like Robbie McEwen do you? Maybe even a Rui Costa post-race wheel whang, a little assault'n'battery? Well get your dukes up, you mewling wussies, because boxing is 2014 sprint revelation Nacer Bouhanni's true "passion," and not only is he training in the off-season with an eye towards a post-cycling pugilistic career, one can sensibly imply that he'll !@#$in' knock your lights out if you come within 4 feet of his wheel in the last 2 kilometers of a race. Just try screwing with *his* line, Roberto Ferrari, if you want an impromptu and highly unflattering nose job! I don't know, man, Sagan and Farrar are so nice I can see 'em going down like a ton of bricks, and Kittel'd maybe hit the deck with a sucker punch while he's moussing his hair, but Greipel you could actually break your hand on and Cav is one scrappy little bastard. First bout: Tour of Qatar, see you there, baby, and bring the Band-Aids!
Tinkoff Goes Stealth: and, in a subtle attempt to evade the nar--uh, jazz up its team-kit sales to the insatiable wannabe masses--Oleg Tinkov's debuted a smokin' blue-camo training-camp team kit for the boys to romp in. Oh, who *gives* a crap--the only team kit that ever mattered is the orange and black--bring back Euskaltel, !@#dammit!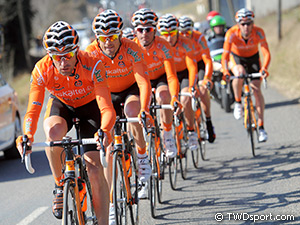 Tour de Force: finally, it's all in for terrifying pasty wraith/prior champ Chris Froome at the Tour de France this year, so Nibali, you're gonna really have to bring your A-game if the boy manages to stay upright and not go up in flames from exposure to the sunlight. Lucky for you Froomey Contador's got a built-in excuse if he's tired out winning the Giro--at least, you better *hope* Oleg lets him get tired next year!