Uh, Aren't the Belgians Supposed to *Like* This Slop?: well, that was one smashing start for African cycling, as big Maggy Backstedt calls it early for the brand-new MTN-Qhubeka's sprint-stud Gerald Ciolek, powering around nicely as Sagan
over-marked Chavanel
to lose the top spot, and Chavanel himself provided, for my money, by far the most aggressive and entertaining ride of the race. But of course, the big news of the day--because it sure wasn't the podium--was the near-blizzard conditions that forced the Italians to cut off the race's Turchio climb but still left the peloton, even after their team-bus lay-off warm-up, in a severe state of soaked, miserable, decimated, pissed-off Popsicle. An extremely ticked
Tommeke
, as he bailed out at the break: "I think my decision says enough.This is partly a precaution, but also a statement to the organization. They knew long enough that there was so much snow on the road. What happens now is the fault of the organization's own fault. Have you ever wanted to bicycle through the snow ridden? There are nicer things than this. I'm completely frozen." Other casualties: Vincenzo Nibali, Matthew Goss, and, well, pretty much everyone from Spain. Stickin' it out: Mark Cavendish for heck's sake, who simply
tweeted
"Fucking.Freezing." and *still* came in strong in the chase group. Right on Cav! Here, Taylor Phinney coated in ice, and a cheerful Sagan with his pie: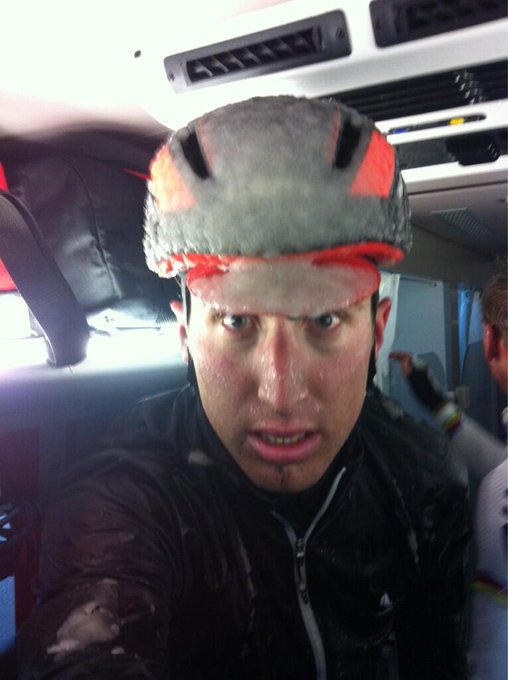 And, the last 3k:
There's Always Tomorrow/For Dreams To Come True: but wait, there's more--it's the fabulous
Volta a Catalunya
starting tomorrow, baby, and it's really all about the pre-Giro showdown between we love modest Canadian defending champ Ryder Hesjedal, Brad "I Hate Being Famous! Wait, Where's the Paparazzi Going?" Wiggins, and Tour rivals Rodriguez and Valverde. Also in: controversial returning Lance-yappin' Garmin ban-ees Van de Velde, Zabriskie, and Danielson. Me, I'm just gonna be smug as hell when dear Euskaltel finally grabs their first win of the season (go to hell! are too! it's been cold out!). And come on Cadel, you can do this--time to show some form already!