Yep, the Hell of the North is done and dusted, so if you weren't glued to your illicit porn-spammed feed glomming on to every magnificent, tragic second for 6 straight hours, what'd you miss? Here, some key points, and a Bonus Friendly Note about Philippe Gilbert:
1. Peter Sagan: no-one else is ever, ever going to help you. And the one guy who would've in a pinch, is retiring. Keep this in yer damn head while you're team-shopping, doofus!
2. Peter Sagan: calm down, everybody. He's still gonna win it. Just not this year.
3. UCI: in all seriousness. The sport's just lost an innocent rider in a terrible tragedy. You *know* cyclists go down in crashes with motos close behind them all the time. Now Elia Viviani gets run over, fortunately with no worse than a few contusions. *What* else is it gonna take before you institute a minimum distance between race motos and riders?!
4. Tom Boonen, man. Gutted. I'm *still* crushed!
5. Mathew Hayman, man. If you're gonna be a domestique most of your career, this is one hell of a reward!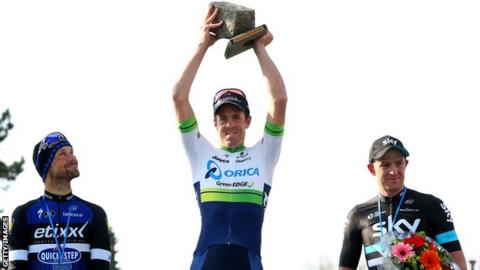 6. Fabian Cancellara. Two silly crashes, one total legend. Chapeau and au revoir, Spartacus!
7. A women's Flanders is awesome. So where the !@#$'s the women's Paris-Roubaix?
8. Get well soon Mitch Docker Niki Terpstra and the rest of the wounded from the cobblestones!
9. So Phil Gaimon apparently rode off course and out of the race. Um, not to deface the hallowed pave' or nothin', but, y'know, *arrows* maybe for these guys?
10. So now not only is Philippe Gilbert !@#$ed out of Brabantse Pijl and probably the Ardennes Classics as well, but now the !@#clown who broke Gilbert's finger in an altercation is saying that Philippe is the aggressor *and* our BMC hero apparently laid into 'im with some kind of pepper spray. Leaving aside the fact that, well, I call bull!@#$, but YOU'RE TALKING TO A GUY WHO SCARED THE CRAP OUT OF A THIRD GRADER BY SCREAMING IN HER FACE DURING THE TOUR DE FRANCE! AND IF HE'S TOUGH ENOUGH TO DO THAT, YOU KNOW HE IS GONNA TAKE YOU *OUT*, MOTHER!@#$ER! For heck's sake, man, what the hell were you even thinking?