1. THIS IS ALL YOUR FAULT, OLEG!
2. On the other hand, anyone who gets kissed by a beagle can't be a *total* goon. But still mostly.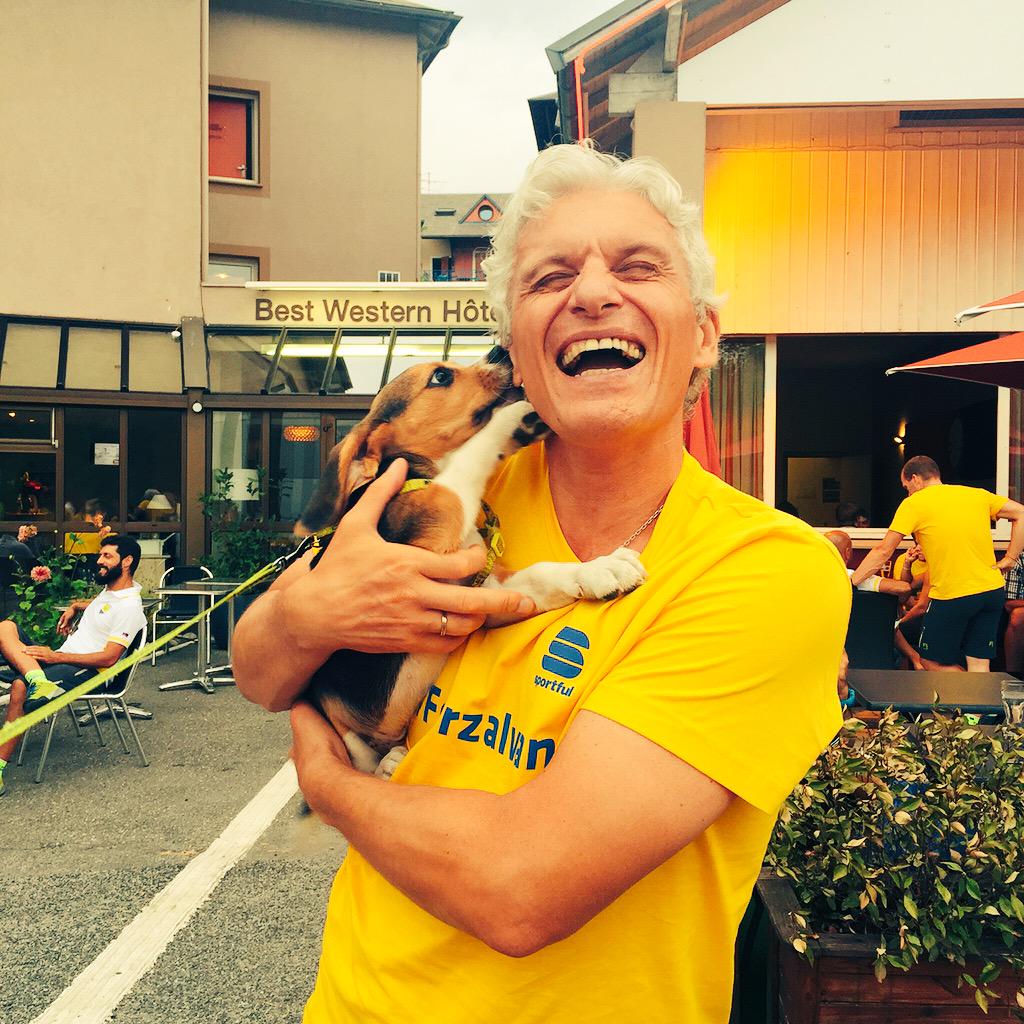 3. Alberto's looking, as he tends to heading into the third week of a Grand Tour, pretty strong. But if Froome's PostalDiscoverySky androids keep riding like this--not even counting Chris "the Pterodactyl" Froome himself--it ain't gonna matter for !@#$.
3. Quintana, man. Your "helpmate" Valverde is right behind you, and, well, it seems highly unlikely he's gonna hold off outta teamsmanship. Watch your back, little Nairo!
4. Am I the only one who thinks Oleg'd rather Sagan just take a !@#$in' stage win for once than don the "most consistent" green jersey every day?
5. Don't blame the !@#$in' media for everyone thinking you and your team are doping, Froome you baby. You riding like such a freak and having a !@#damn Classics specialist making Quintana look like freakin' Cavendish on a mountain climb are why. Wah, wah--the maillot jaune's your reward, whether you deserve it or not!
6. Speaking of whom, it's kinda a testament to Cav's sheer amazingness that everyone's acting like he's a loser for taking "just" one stage win this year. We really take him for granted, don't we?
7. Tejay Van Garderen. What a great job by him, *and* BMC. Samuuuuuuuuuuuuuuu!
8. PURITOOOOOOOOOOOOOOOOOO!
9. Major, *major* grinta by Nibali yesterday. No matter where he places, *that's* a champion.
10. New UCI rule: any classless skankfest "fan" throwing wizz on a rider--no matter who that is, or why--shall be used as a fire hydrant for the entire peloton's next "nature break."
11. Of all the reasons guys've left the Tour this year, it's a relief to hear Basso's prognosis after his terrible news is excellent and dandy a baby Van Avermaet is pending. And could Vandevelde quit bitching how BMC should never have squandered a spot on 'im in the first place?
12. Andre Greipel. Gets no credit, but gets the glory!
13. Loved, *loved* Steve Schlanger desperately trying to milk Geraint Thomas for tearful emotion after Warren Barguil whanged him head over heels into a telephone pole and a ditch and getting a mild "it's irritating" in return.
14. It's been a *lot* less bloody this week. Let's hope it stays that way in the Alps--and go Alberto, or it's *this* next week in Paris!