The Velo D'Or? Eh. The Paris-Roubaix cobblestone? Yawn. That big giant trophy you get for winning the Tour de France? Shrug. Yes, now it's time for the big awards show of the cycling season, the incredibly prestigious, highly anticipated (and universally ignored) 2013 Racejunkie Awards! Winners: if you claim it, enjoy a bitchin' custom racejunkie cap, as well as the eternal glory you've earned. Losers: well, you're probably better off not winning here anyway. Therefore, without further ado:
Cyclist o' 2013: Let's cut right to the chase: look, Nibali's bangin'. Froome's fab (okay, well Fabian's fab, but anyway). And Cav of course is awesome. But on road, mountain, cross, and trike, Marianne Vos is simply the best rider in the peloton today. Or yesterday. Or tomorrow. Or ever. Bow, bow before the Vos!
Kick In the Nuts/Punch In the Face/Wedgie of All Time Award: dear we love Euskaltel-Euskadi, really gone, brilliant wee climbers, unique Basque identity, smashing team kit, and fanatic Orange Army, and all. Waaaaaaaaaahhhhhhhhhhhhhhhhhhhhhhhhhhh!
Good Deeds Never Go Unpunished Award: so impassioned (if ill-timed) Lance defender Chris Horner wins the Vuelta at age Moses, is immediately surrounded by doping suspicions, and what does he do? Yep, proudly releases his blood values. And what happens then? Nope, it sure wasn't pretty! Shoulda just hidden in your hotel room with a pile o' McNuggets 'til it all blew over, I guess...
Dope(r) of the Year: yep, Giro poz Mauro Santambrogio had this one in the bag, at least til Mick Rogers got taken out by a tainted Chinese cow not a week ago. Dammit, can't we at least keep it to riders I don't *like* for heck's sake?
Fan Antics o' 2013 Prize: yeah, there was that panda guy, and the usual contingent of screaming half-nekkid mankini banana-hammocks getting in the riders' way at the Tour, but this year, it was the rowdy beer-swillin'--and sharin'!--fans at the Dutch corner on the Alpe d'Huez. Here, Adam Hansen grabs a cold one:
TMI Award: Sure, dopers have pulled a lot of disgusting stunts in order to gain an edge. But what we *really* didn't need to hear was Michael "the Chicken" Rasmussen's claim that a then-Rabobank bus driver nestled a buncha EPO right up against his nuttal region to evade the narcs. Needless to say, successor squad Belkin quickly put the kibosh on to any further investigation into the matter. Thankfully!
Comeback o' the Year (Not) Award: Well, Wiggins was the 2012 Tour champ, so he didn't really have anything to come back from, which is good, because he didn't. But Andy Schleck? Oh, he was *so* taking the Tour! Or a stage. Or a one-day race. Or at least finishing one. Or maybe just getting to the start line sometime...
Over/Under, Over/Under Prize: oh, Orica-Greenedge. At the Tour de France, the team bus goes *under* the finish-line banner, not *over* it. D'oh!
Total Organizer !@#$up of 2013 Corollary Award: they're going to the original finish line. No, it's 2k back. No, it's the original finish again. The completely befoozled race organizers at the Tour. Make up your freakin' minds and convey it clearly to the teams already, so these boys even know if or when they're supposed to sprint!
Portrait of Dorian Grey Award: his dashing hipster facade belied the haggard, tortured trainwreck within. Brad Wiggins, this one's for you!
Icicle, Icicle, Icicle Race Award: Okay, we're used to the occasional freezefest in the Giro, even the Tour. But half the GC dropping out of the beautiful Vuelta
coated in ice
like grisly popsicles? I'm just glad any o' these guys survived!
PR Disaster of 2013: jeez, Lance, I didn't think it was *possible* for you to be more of an unctuous, self-serving tool than you already were. But then, you blabbed on Oprah. My bad!
I Am Woman, Hear Me Roar: Women's cycling is *done* taking any !@#$, honey, and now, they demand the Tour de France, and every other race--from sponsorship to paychecks to organization to sheer kilometers--they deserve.
Women's Cycling Association
, this one's for you!
My Boss is a Bigger Nutwhack Than Your Boss Award: sure, Vino's crazy, which is why, among many other reasons, we still love him. But Oleg Tinkov, man--that's a whole 'nother level of wingnut. Am I the only one really psyched for 2014?
Crap Mechanical of All Time Award: Alejandro Valverde, absolutely blown outta the water on a crosswindy stage at the Tour. Still, he does get major class-act points for subsequently throwing his considerable power behind young untested Nairo Quintana. At least 'til he bushwhacked Purito Rodriguez at the Worlds!
Ride o' the Year (Thrill o' Victory Edition): yes, Fabian Cancellara's win at Paris-Roubaix was a beautiful--if almost inevitable--thing. But for sheer passion and love of the sport--even if he did have a huge crash near the line to partially thank for it--John Degenkolb's stage 5 win at the Giro, and subsequent collapse, was a jump-outta-yer-seater. Complimenti!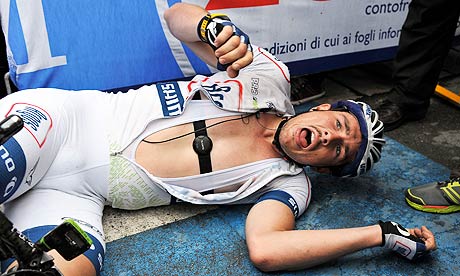 Ride o' the Year (Agony of Defeat Edition): a desperate Tony Martin, caught seconds before the line at stage 6 of the Vuelta. Valiant--but *so* agonizing to watch!
And, Last But Not Least, Lovable Legal Nitpick o' 2013 Prize: no, not that dissembling wanker Lance--it's our swoonworthy wreck-on-wheels Alexander Vinokourov, not so much taking issue with the allegations that he bribed himself his 2010 Liege-Bastogne-Liege win from Kolobnev, but pissed as hell that some thieving amoral jackwagon apparently
hacked his personal e-mail
to get the proof. Oh Vino--I don't know if you're best or worst thing to happen to cycling in this generation, but dang, you are by far the most fun!
Well, them's mine, and if I missed anything that ought've been include, feel free to write it in. In the meantime, I'm looking forward to the hijinks of 2014--the new season's sure got a lot to aspire to!